Reproduced by kind permission of the Maidenhead Advertiser


Plane Speaking Words by Kathryn Lay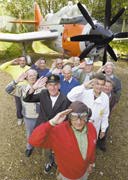 A fascinating Woodley museum reveals our county's important impact on the history of aviation
In a time when industry leaders claim British entrepreneurship is being suffocated by red tape and low investment, it is a joy to visit a museum which celebrates a boom time for inventiveness. The Museum of Berkshire Aviation, in Mohawk Way, Woodley, is crammed full of memorabilia and aircraft hardware from the heyday of aviation.
It focuses on Miles Aircraft, which was based in Woodley Airfield – then called Reading Aerodrome – from 1932 until the late 1940s and ML Aviation (MLA), based in White Waltham from the late 1930s until recent years.
Many of the projects worked on by MLA were for the Ministry of Defence and classified top secret. These included black boxes, ejector seats, pressurised helmets, a flying jeep and a remote-controlled flying surveillance unit, called the Sprite – Surveillance, Patrol, Reconnaissance, Intelligence, Target designator, Electronic warfare. The Sprite is a jaunty child of the Sixties – a spherical creation, straight out of an episode of The Invaders, and powered by a lawnmower engine. Sadly the flying jeep is not on display at Woodley, finding a home instead at the Army Aviation Museum at Middle Wallop, but pictures show an ungainly hybrid – which was developed to transport troops into hostile territory and rough terrain – taking to the air.
A scale model of the M.52 shows Miles Aircraft was a leading light in the aviation industry in its heyday. The M.52 was to be the first supersonic aircraft in the world, but the Government-funded project was cancelled abruptly. Mr Kite said: "It was assumed by Ben Lockspieser, the Minister of Aircraft Production, that it was too dangerous to risk pilots' lives trying to get through the sound barrier." To add insult to injury Miles Aircraft was ordered to hand its work and designs over to the American Bell Aircraft Company. A year later Major Chuck Yeager, of the US Air Force made the world's first supersonic flight in a Bell X-1.
Another of MLA's successes, which it could take public acclaim for, was the pressurised helmet made in 1961/62 and used in the testing of the supersonic jet, later named Concorde.
The Museum of Berkshire Aviation is run by a band of enthusiasts and keen restorers, all of whom are volunteers. John Kite, 70, said: "It all stemmed from the Berkshire Aviation Group. "A team of people who had garages and sheds full of memorabilia decided it would be nice to put it all into a museum.
"Everything in this museum was either made in Berkshire, flown in Berkshire or crashed in Berkshire and there was a lot going on in the field of aviation here in the 1930s, 40s and 50s."
Help from British Steel and Wokingham District Council led to the museum opening its doors to the public in 1993 and it now gets about 4,000 visitors a year from all over the country.
One of its attractions is its link to Douglas Bader DFC, who crashed in Woodley Aerodrome in 1931. The flying ace, who was the subject of the film Reach for the Sky, had a remarkable career in the air. He lost his legs during some airborne acrobatics, but was fitted with artificial limbs and went on to fly Spitfires during the Second World War, downing numerous enemy aircraft. He was captured by the German Luftwaffe and imprisoned in Colditz Castle. "Bader returned to Woodley in 1951 to open the Coronation Hall," said Mr Kite.
Apart from providing a glimpse into history for its visitors, the museum staff spend much of their time piecing history back together again.
Several of the exhibits have been lovingly restored in the frenetic workshop. "There is a Miles Martinet which crashed in Iceland, which we are restoring, it is the only one in existence," explained Mr Kite. Photographs show a crumpled mass of metal and wood, which, with some hard work will become gleaming showpiece.
Two hulking exhibits dominate the entrance to the museum – a newly repainted Fairey Gannet T5, a bomber which was designed to operate on aircraft carriers, and a 1958 BEA airliner, painted in its original colours and looking ready for service. Visitors can climb aboard and see the myriad of dials a pilot used to contend with and the scant space a 1960s stewardess had to work in. "But it was an absolute wreck when we got it," said Mr Kite. "It took a team of seven or eight people 18,000 man hours to restore it."
The Museum of Berkshire Aviation is open to the public on Saturday, Sunday, Wednesday and Bank Holidays, 10.30am until 5pm during April to October. From November to March it is open on Sundays from noon to 4pm and on Wednesdays from 10.30am to 4pm. Admission costs £2.50 for adults, £1.50 for senior citizens and a family ticket for two adults and up to three children costs £6.50.