Serial: BAPC.233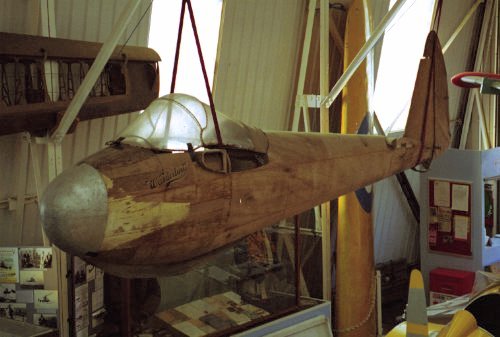 Details
In 1946 a new aircraft was designed and built at Woodley Airfield - not by Miles Aircraft but by two young employees of the company, K.W. Radburn and T.E. Brown. It was the Wanderlust high performance sailplane and it made its first flight, in the hands of Miles Aircraft's Chief Test Pilot, Hugh Rendall, in 1947. The article below came from The Aeroplane Spotter April 19, 1947.
"Another new British Sailplane, which has appeared recently, is the Broburn Wanderlust. A product of the new firm, Broburn Sailplane Limited. The Wanderlust has been designed by T.E. Brown and K.W. Radburn. The Wanderlust is a single seat sailplane of wooden construction, with a cantilever shoulder-wing. The wing is covered with ply from the leading edge as far as the spar, aft of which it is fabric covered. Fitted along the whole span are aerofoil section flaps, which are split at about half span so that the outer section scan act as flaps or drooping ailerons. Accommodation in the cockpit is roomy and the pilot's head is raised well above the wings and fuselage under a Perspex hood. A seat type parachute is provided, with a radio as possible additional equipment. Novel use has been made out of a cut motorcycle inner tube encased in canvas to provide an inflatable shock absorber."
Manufacture: Broburn Sailplane Ltd.
Purpose: Single seat Sailpalane. Accommodation: pilot
Dimensions: Span 34 ft, length 18 ft 3 in, height (tail down) 4 ft, wing area 75 sq ft, aspect ratio 15.4.
Weights and loading: Empty 250 lb, all-up weight 450 lb, wing loading: 4.5 lb/sq ft.
Performance: Minimum gliding angle 1 in 25, sink speed 6.5 ft/sec at 95 mph, best gliding speed 35 - 37 mph, stalling speed 32.4 mph.
About our Aircraft
In 1993, having been in storage at Farnborough for some years, it was bought back to Woodley for restoration in the Museum by its present owner Pat Pottinger and one of its original creators Ken Radburn.