Miles M.14A Hawk Trainer 3 (Magister)
Serial: L6906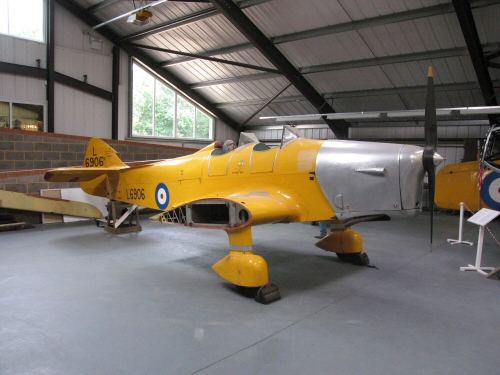 Magister Restoration Updated Feb 2009
Details
This beautiful constructed replica originally started life as Miles M. 14A Magister, serial number T9841, with c/n 2078, being one of the last batch of 300 Magister I aircraft delivered from Woodley between May 1940 and January 1941. It was first used by No. 16 EFTS and then by No. 11 EFTS before being sold to BOAC for use by their Speedbird flying club on 8th June 1948. Registered as G-AKKY it flew until being withdrawn from use in November 1964. G-AKKY languishing for many years during which time the fuselage and centre section was destroyed.
Graham Johnson and a small group of enthusiasts named The 49 Group, which later dwindled down to just Graham Johnson, then purchased the surviving pieces and constructed the replica L6906 around the remaining components and small metal parts between 1967 and about 1979 at Bristol, first in his garage and later in a Nissen hut nearby.
L6906 was built virtually from scratch following his restoration of another Miles aircraft, the one and only surviving pre-war Miles M.14A Hawk Trainer III, G -AFBS for the Staverton Museum in the early 1960's.
Whilst L6906 was not intended to be built to flying standards it does faithfully represents the method of wooden construction used by Phillips & Powis Aircraft Ltd, in the 1930's for their series of low wing light and sporting monoplanes.
Graham Johnson handed L6906 over to Julian Temple, then Chairman of the Berkshire Aviation Group, at the Air-Britain Fly-in which was fortuitously held at Wroughton over the weekend off the 27th and 28th June 1987.
About our Aircraft
Construction number 2078, 19841, G-AKKY, BAPC 44.