A vital cog in fight to win Second World War
Rare archive material sheds new light on the work of the ATA.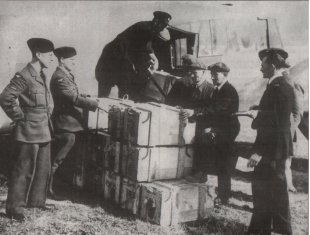 Those who were part of it believe the Air Transport Auxiliary (ATA) was a crucial contribution to the war effort, but the male and female civilians recruited to transport war planes, from factories to air bases all over Britain, during the Second World War have been all but forgotten by the history books.
The incredible work of this small but vital movement, which had its headquarters at White Waltham airfield, is celebrated in The ATA Collection, an exhibition of rarely seen archive material, at the Maidenhead Heritage Centre from Wednesday.
Ground-breaking for the fact that it saw women flying fighter planes for the first time in Britain, the ATA was also remarkable for its recruitment of disabled First World War veterans and pilots who were too old to serve in the RAF.
The ATA was established in the summer of 1939 for communications work, completing such tasks as the transportation of government ministers.
Later its remit expanded to include flying new fighter planes from factories.
The idea was to free RAF pilots for operational duties by using civilian private pilot's licence-holders instead.
The 1,300 ATA pilots operated from 14 'ferry pools' scattered all over the country, of which White Waltham was Number One.
Pilots would be flown from these airfields in 'air ferries' to nearby factories where they would pick up aeroplanes fresh from the conveyor belt and fly them, usually solo and without navigational aids, to RAF bases as far north as Lossiemouth in Scotland.
In July, 1940, Lettice Curtis was working as a pilot for a survey company when she became one of the second group of women to be recruited by the ATA.
She was first based at Hatfield, where she flew Tiger Moths, before being moved to Hamble and finally White Waltham.
"People forget how serious the war was in 1941. Ships were being sunk and towns were being bombed," said Lettice, who now lives in Twyford.
"They were building more and more aircraft and it was important they were got away from the factories, because they were liable to be bombed."
ATA pilots worked ceaselessly to move incredible numbers of planes, including 57,000 Spitfires. Planes moved by Lettice included Hurricanes, Typhoons, Tempests, Halifax's, Wellingtons and Warwicks.
Although she maintains the work was 'much simpler flying than the RAF', because in involved a straight, level journey between two points, Lettice admitted the job was not without its complications.
"Very often you didn't get to your destination in one go.
"You navigated by looking at the ground. If the weather was bad and you couldn't get there, you landed at a suitable airfield."
In days before the clean air act came into force, cities would be blotted out completely from the air by smog.
"In nice weather it was easy, but when the weather was bad it took a lot of concentration.
"If the weather was particularly bad, you just had to hang around until it got better."
Despite some people's resistance to the idea of women flying large, fast aircraft, Lettice saw it as 'just a job'.
"You didn't stop and think whether it was daunting. It was just flying.
"People loved flying and wanted to continue. If you did badly, you would be terrified of being thrown out.
"It was only one job in the war. People were doing all sorts of things."
Wally Headington, who still lives in White Waltham, was a ground engineer at the airfield from August, 1939.
At that point, it was a flying school training RAF pilots
The RAF moved out completely in 1941, but Wally stayed on to work for the ATA.
His most vivid memory is of the day the airfield came under attack by a German pilot.
"He was in a Dornier 17, a 'flying pencil'. He came ever so low. Fortunately for us he aimed for the airfield," said Wally.
"We were watching him, saying 'What's this coming in?' As we watched, these little black dots dropped down. Somebody shouted 'Bomb!'
"There was a big flash. Bombs in the distance boom, but this was a crack.
"I damaged my right ear with the explosion. I was deaf in the right ear for three weeks. "He actually destroyed five Tiger Moths and did a lot of damage.
"One of the ground crew died. Two or three were injured."
Wally's work at the airfield included maintenance work on the air ferries and training planes and readying them for departure.
"It was tremendous organisation. There were so many movements in one day," he said.
"The ATA was a tremendous cog in the winning the war."